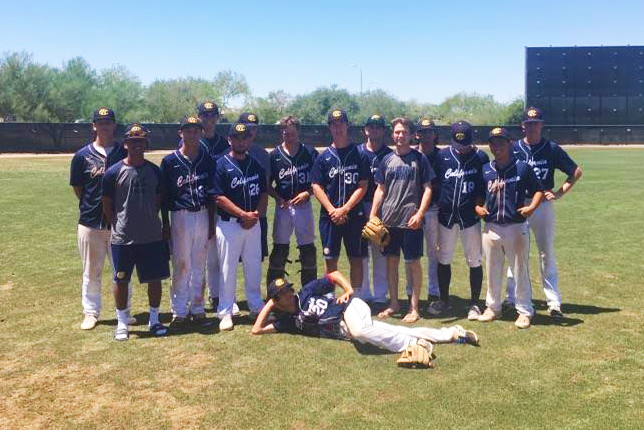 The California Warriors had a strong showing at the 17u USA Baseball Team Championships in Phoenix, AZ from June 15-21. This tournament, which serves as selection process for the 17u USA National Team brought almost 100 of the most competitive teams from all over the west coast together for a week of baseball. This strong competition brings college scouts and recruiters out from all over the country, and this week was no different as the Warriors played in front of over 30 schools.
Strong pitching kept the Warriors close early on in their first 4 games of the tournament, but the games slipped away late as they were either tied or tailing by one run heading into the 5th or 6th inning of all four games.
In their first game against Canyon Thunder, Eddie Burns went 4 innings giving up only one run while striking out 6 batters. Cooper Vasquez gave the Warriors another good start in their 3rd game against BPA 2019 where he went 4 scoreless innings while striking out 6 batters as well.
The Warriors' first win of the tournament came in their 5th game against the SGB Wahoos, winning by a score of 10-4. Eddie Burns was back on the mound and he went 4 innings, giving up 3 runs while striking out 9 batters. Kyle Felder threw the last 3 innings yielding only one run. Offensively, Cooper Vasquez had a big game going 2-5 with 2-3B's and 5 RBI's. Catcher Eamonn Lance added 3 hits while outfielder Deven Irwin added two for himself.
In their final game against the West Coast Blackdogs, Cooper Vasquez threw a complete game shutout striking out 10 batters. Eamonn Lance provided the Warriors first RBI of the day and finished the game with 2 hits.