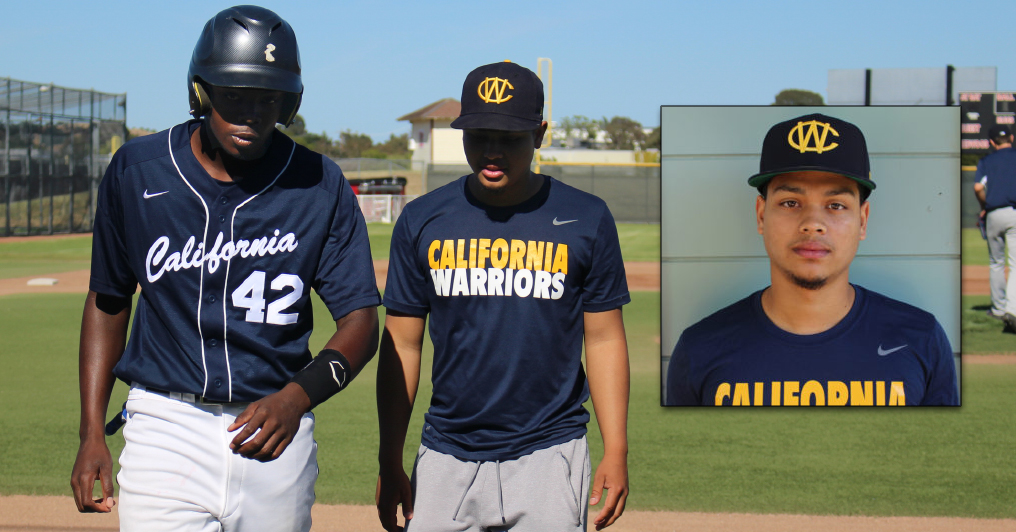 I played three summers for the California Warriors-First Base Foundation (2013-2016), where I gained experience and training that prepared me for playing College Baseball. I am currently in my junior year at Cal State Monterey where I transferred after playing at the University of the Pacific in Stockton. Not only was playing for the California Warriors a beneficial experience in practical terms, but also the time I spent playing with the Warriors was the most fun I have ever had playing baseball.
In those three years, I had teammates who became not just friends, but family. I developed relationships with coaches that could never be broken. We traveled to places to play baseball that I never thought I would see. For example, we went to Utah in my second year and also to Washington State, where we played on the University of Washington's beautiful turf field. There are memories I will never forget. I remember Marcus Chiu – who plays in the Los Angeles Dodgers Minor League system – turning a triple play by himself in the Phil Singer San Diego tournament and Kasey Wallace blasting a homer off the scoreboard in Utah and getting clutch hits when our team needed it. Then there was Christian Merriwether being the fastest outfielder I ever met always wanting to pitch and finally getting a chance. I remember going to the beach with the team to boogie board and we all get sunburned in San Diego, and our Coach getting lost in Utah causing us to accidentally drive past an Amish town. My view on the world grew as I got to travel with my best friends and play good competition. Being able to play in different areas other then my hometown taught me how to adapt to new atmospheres, conditions, and places, which helped me with my baseball career after high school.
Along with many of my Warriors teammates, I got the opportunity to play college ball. For me the whole goal of playing summer ball was to become a college player. Because I had great coaches, I was able to build my confidence and skills to play at the next level. After my last season with the Warriors, I decided to attend University of the Pacific to pursue my baseball career. UOP is a division one program that plays in the West Coast Conference. I played two years for Pacific, starting a few games. After two years I deiced to transfer to California State Monterey Bay, a powerhouse division two program that stands at the top of the CAA conference. I have two years of eligibility left and everyday I continue to absorb information and the beauty of the game. The most important thing that I have learned so far from college is the immense importance of putting in the extra work.
A passion of mine is to teach student athletes some of the lessons that I have learned and to pass on my knowledge of the game. During the summer of 2018, I had the great opportunity of being an assistant coach under Stephen Henderson, who is now the Director of Baseball Operations for the California Warriors-First Base Foundation. I had a fantastic time coaching and giving back to the program that helped me so much. While coaching I learned the importance of communication and how providing positive energy and feedback can impact the players. This summer I will once again be coaching with the California Warriors. I am highly motivated to give back to the community that has inspired me to pursue my dreams. I aspire to provide student athletes the same feelings that I have of loving my teammates, baseball, and myself. A kid with confidence and belief in him self is unstoppable and I want kids in our program to learn that.
Along with coaching this year, I will be interning in the front office of the First Base Foundation. My major is Journalism and multi media, so I will be focusing on being a videographer and social media platforms. I will be doing write-ups on players and updates of what is going on with the many teams in the program during the summer. I really look forward to taking videos and creating highlights, along with making visually pleasing social media to attract future kids, and keep our warriors family in social media communication. My skills comprise of working well with a team, writing, and social media and throughout this summer plan to grow these skills and develop more. This internship is a great opportunity that allows me to build a strong portfolio, for future jobs and opportunities after college.