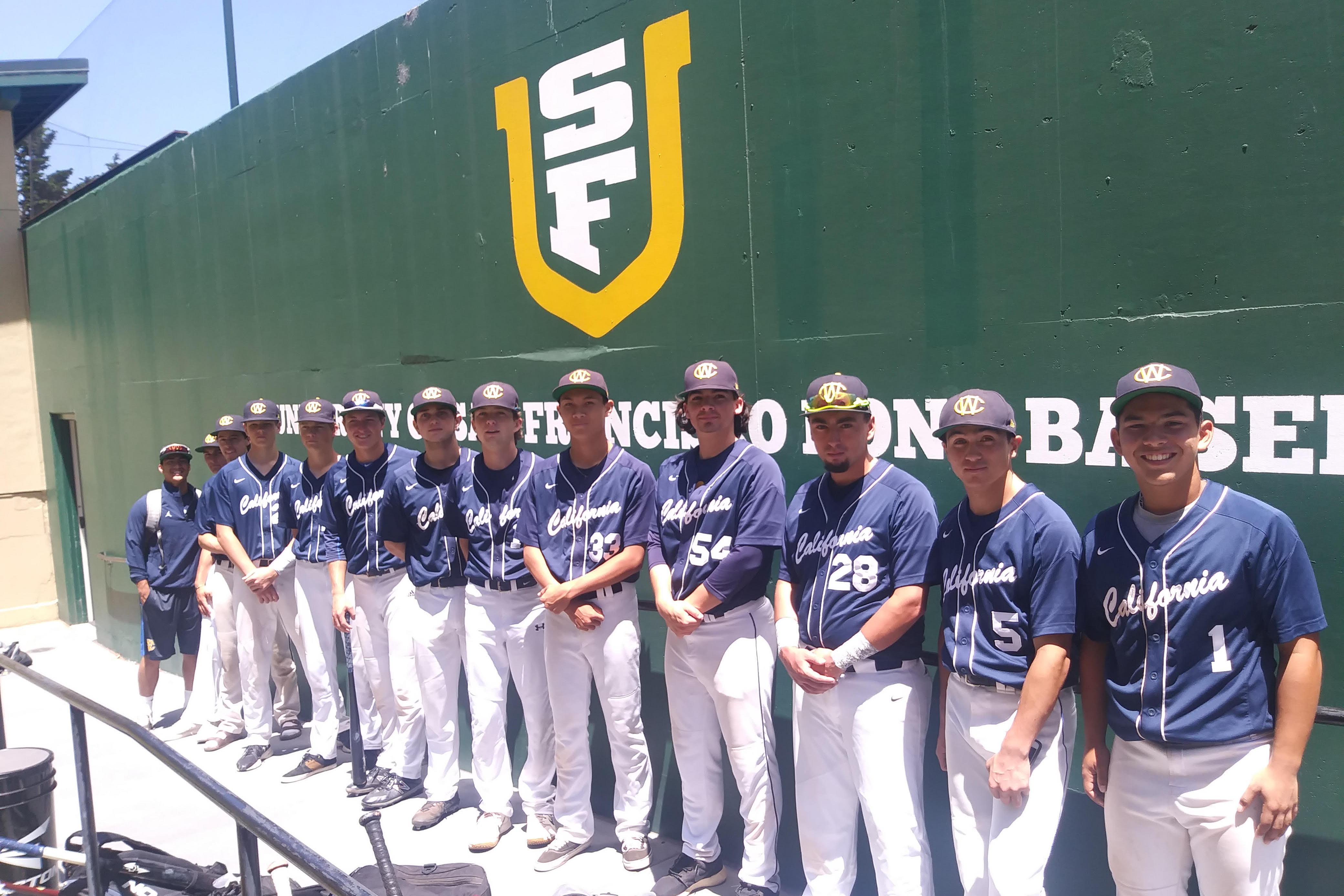 The California Warriors 2019, 2020, and 2021 Elite Teams all competed in the Prospect Wire Ten San Francisco tournament. This is the first time Prospect Wire has hosted a tournament in San Francisco. This was an invite-only tournament, and the California Warriors teams were winners, winning 10, losing 2, and tying 1. The 2020 Elites played in the championship game and lost. There were may college coaches and Prospect Wire scouts attending these games. We are proud of our California Warriors players, who were able to impress college coaches and scouts with their talent and high level of play.
2019 Elite
2019 Elite went 3-1 at the tournament with their only loss coming in their opening game against the Chico Aces, losing 9-8. 2019 Elite outscored their opponents 31-17 in the four games turning in some strong pitching performances. Cooper Vasquez threw a complete game in the 2nd game of the tournament holding the California Bulldogs to just three runs. Eddie Burns then had a similar performance in the 3rd game, going four innings for the win in a closely played 5-3 game over GamePrep Baseball. Prospect Wire had this to say about Burns and Vasquez when highlighting them on twitter:
2019 RHP Cooper Vasquez, California Warriors Elite 17u, goes the distance giving up 3. He was pitching to contact mixing sinker (82-84) and slider. #Uncommitted @CaliWarriors pic.twitter.com/zKyyEeRdeN

— Prospect Wire (@ProspectWire) June 30, 2018
CA: 2019 Eddie Burns, CA Warriors Elite 17u, FB 84-86 up to 88, BB 71-73, CH 74-76, high academic 4.0 GPA 35 ACT, athletic lower half, definite arm speed, only works out of stretch #Uncommitted @CaliWarriors #PWTeN pic.twitter.com/KLttEnA8Pr

— Prospect Wire (@ProspectWire) July 1, 2018
2020 Elite
2020 Elite went 3-0-1 in pool play, earning themselves a spot in the 2020 championship game. They would eventually lose a well-played game 5-3 to Show California. Similar to the 2019 team, 2020 Elite had a big day at the plate, outscoring opponents 25-10. Duncan Kindopp and Carter Duncan had great offensive tournaments, both hitting over .400 with more than 1 hit per game. Josh Franks led the 2020 Elite Team at the tournament in steals with 5 and also hit .385 across the five games.
On the mound, the team had big performances from Stephen Hartwell and Stephen Elsner. In their 3rd game, Hartwell spun a complete game shutout, striking out 7. In their 4th game Elsner went 5 innings, striking out 7 for the win. Prospect Wire scouts had this to say about Lukas Prongos:
2020 Grad Lukas Prongos 6'5 210 enjoyed a 3 hit day including a line drive double off the right center field wall. Raw power, huge potential, drives the ball to all fields with loud contact @CaliWarriors #PWTeN pic.twitter.com/C4GipeCLJx

— Prospect Wire (@ProspectWire) July 2, 2018
2021 Elite
2021 Elite finished pool play 4-0, outscoring their opponents 44-8 in those games. Shortstop Brady Huchingson didn't make an error all tournament and hit over .400 while stealing 4 bases. Leadoff hitter Zach Coleman hit .500 with 5 Stolen Bases while also throwing a complete game shutout, striking out 10 batters. Outfielder Charlie Boyle led the tournament in RBI's with 8, and also hit .375. This is what Prospect Wire had to say about the 2021 Warriors:
2021 CF/RHP Zach Coleman @CaliWarriors, finishes the day reaching base all 7 at bats, 4 SB's, 3 runs scored, also threw a complete game 2 hit shutout with 10 K's #haveaday #uncommitted pic.twitter.com/NE7iFteSLz

— Prospect Wire (@ProspectWire) July 1, 2018
2021 6'0 150lb SS Brady Huchingson @CaliWarriors hits a single through the 6 hole, reaching base for the 3rd time in 4 at bats. Effortless swing compliments his smooth defense. Intelligent hands and feet for age. Arm strength to stay on the left side. D1 infielder #PWTEN pic.twitter.com/boo7borDC5

— Prospect Wire (@ProspectWire) June 30, 2018